Computer Resources of America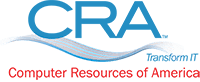 For 25 years, Computer Resources of America (CRA) has been providing IT solutions for clients in New York City. They serve financial companies and midsize organizations as well as non-profits and government agencies. CRA offers a range of services including managed information technology, cloud storage solutions and IT consulting. Additionally, customers benefit from their website, which offers plenty of IT resources. Overall, case studies, a consistently updated blog and IT white papers make their website stand out among their competitors.
Solutions at Computer Resources of America
CRA offers free evaluations to companies who are interested in their services. Also, potential clients can also read the testimonials that highlight their strengths as a business. Computer Resources of America offers four types of solutions to clients:
Managed IT services: This helps companies solve their business issues. Outsourcing services allow companies to reduce cost and become more efficient.
Cloud solutions: Cloud computing has become a major resource in today's business world. Customers find their costs decrease as their productivity increases by implementing the cloud.
IT consulting: By balancing a company's needs with their budget, CRA provides a wide variety of solutions through consulting.
Staffing: Furthermore, CRA offers staffing solutions and recruiting specialties for a broad spectrum of needs.
Digital Firefly Marketing and Computer Resources of America
Customers must be able to locate companies easily on the web in order for them to be successful. Digital Firefly Marketing manages Search Engine Optimization (SEO) for Computer Resources of America. We help keep businesses such as Computer Resources of America visible on the web. SEO practices prove to be one of a company's best investments. Because of this, businesses not only stay competitive but are able to focus their energy on their specialty. Therefore, if you're interested in a free SEO audit of your business, contact us today.