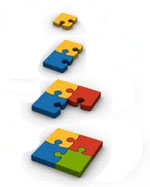 Our second step in our digital marketing process is to investigate where you are in your own marketing. We will look at the following to understand where you are in the digital marketing arena:
Website.  Is your website SEO compliant? Are you using keywords and phrases that accurately describe your business and location? Are you using Alt Tags? H1 Tags? and Page Titles?
Search Engine Marketing.  Are you using AdWords? Bing? Have you used pay-per-click advertising?
Social Media Marketing.  Is your company on Facebook, Twitter, LinkedIn and YouTube? How many fans and followers do you have? Are you using any paid campaigns on Facebook and LinkedIn?
Email marketing.  Do you have a database of emails in SalesForce or other CRM like Highrise? Are you marketing to them today? Do you have an HTML template?
Once we understand where your business and brand stands in the digital marketing space we start crafting our proposal and estimation of work.