Creative Assembly Systems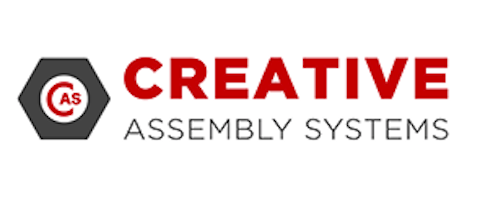 With over 30 years of expertise and quality service, Creative Assembly Systems (CAS) is a value-added distributor of fasteners. Their proprietary and specialty fasteners for production serve a variety of industries. For example, they primarily serve the heavy truck and automotive industries. They also work with appliance and material handling industries and partner with manufacturers to achieve success. CAS has advised Fortune 500 companies with supply chain management and logistics solutions.
The Quality of Creative Assembly Systems
Creative Assembly Systems does more than just support companies in productivity and assembly. Their goal is 100% customer satisfaction throughout all the services they provide. This means that they work with the highest-quality materials and commit themselves to giving the best service to their customers. Here's what sets CAS apart from the rest::
The industries they serve:

In addition to the heavy truck and automotive industries, CAS serves power utility, lawn and medical equipment industries. Also, they serve HVAC, food service and rail transportation.

Their products:

CAS provides an array of products in many categories. Fasteners, tools and anchors are three of the most popular types of merchandise. Furthermore they provide abrasives, clamps and stampings. Their Class-C components include dowels, bushings and spacers.

Other services provided:

Creative Assembly Systems also works with third party logistics and kitting and packaging solutions. Finally, they provide services for vendor-managed inventory businesses.
Digital Firefly Marketing & Creative Assembly Systems
Digital Firefly Marketing manages SEO for Creative Assembly Systems. By researching keywords and monitoring analytics, we help websites reach the top. DFM also manages Google AdWords Support for CAS. This Pay Per Click service allows companies to advertise online. Additionally, we developed their website to provide customers with an engaging and interactive search experience . Their website includes a wide variety of resources for the businesses they serve. To increase traffic and boost your online visibility, contact us today for a free audit.