February 17, 2017
Content Strategy That Packs A Punch — Part 2
The Steps To Follow For Content Strategy At Every Stage
Last week we introduced content strategy in Part I. This week we want to get into the nitty gritty. How can you, as a small business, handle content strategy and all of its facets? Let's skip the intro and dive right into the details.
In order to develop a kick ass content marketing plan, you have to understand that there are four major components: research, planning, execution, and analysis. Spoiler alert: the first and last are the most important and most often overlooked, so get out your highlighter and pay extra attention to how you can develop these parts of your content strategy.
The Steps In A Kick Ass Content Marketing Plan
The four aspects of your content strategy or content marketing plan work in tandem to bring about the benefits of a consistent content strategy.
Research: Knowledge is Power
The first step in any content strategy or content marketing plan is to research. Research is the gathering of information that will dictate the rest of your plan. Here's what we recommend (and what we do ourselves at Digital Firefly Marketing):
What's Trending?
Research what people are looking for using Google trends or adwords. Something about your industry is hot right now. And you want to jump on it. But keep this in mind: get specific.
If you sell car stereos and a huge improvement to Bluetooth or possible competitor to that technology comes across the radar get as specific as possible. Think about your industry and then funnel down to your expertise. Instead of writing the ten reasons why Bluetooth in your car is awesome (yawn!), share statistics of how bluetooth technology has decreased the number of motor vehicle accidents or your go to things to use Bluetooth for.
How do People Consume the Information you Share?
Depending on the demographic your business attracts, clients and potential customers will consume your information differently. Make sure you're tracking analytics. If customers tweet you but no one engages on Instagram, focus more on Twitter and the type of media that does best there. If your blog is getting comments, keep blogging! Engage with potential clients on all platforms and to capitalize on the places where your customers are engaging.
What's Working for Your Competitors?
Most importantly: what's not. If we could only ever give one piece of advice about research it would be to see what's failing for others and just skip it. Find your direct competitors and see what they are doing and how people react. Is there website more user-friendly? Do they have an app? Are they using Live technology or running a funny post on Fridays that keeps people coming back? Learn what others are doing that works and doesn't and use it to kick your own content strategy into high gear.
Make content valuable
This applies to social media and to content: you want things that are valuable, consumable and shareable. Statistics, infographics, and useful bites that can easily be shared. Longer content works, too, but make sure it's engaging and valuable — cut the fluff!
Planning: Backwards Planning
Doing research and getting an idea of what you're going to do is essential and comes first, but be sure to think about the big picture. The way to do that is through backwards planning.
Set a SMART Goal. A SMART Goal sets more than just a list of what you want to accomplish. It delves into five things: the specific achievement you seek, how you can measure this, whether or not it's doable (hint: don't waste time on things that aren't doable), whether it's realistic, and includes a deadline.
Here's how to make it work for your content strategy.
Specific: Get more shares per post.
Measurable: How many do you get in an average month per post? That's your baseline (something that is measurable and to which you can measure your goal). Set a goal of 5 or 10% more.
Attainable: if you have 100 shares per post per month increasing by 10 more is doable.
Realistic: This is realistic because there are ways to make content more shareable.
Time Bound: Set a goal of one or two months.
Build Backwards. If you have set the goal of 1 month be sure to mark that date on your calendar. Then work backwards to set reasonable milestones along the way that include which content is released when and how. This way you can assess what is working as you go. If you plan to increase shares by 10%/month then in 2 weeks you'd want an increase of 5%. If you notice a certain type of post (either style of post or platform) is working, capitalize on that by doing the same thing and change up what you're doing elsewhere. More on this later.
A backwards plan allows you to plan and schedule while also continuing to research and discover your next content strategy with a new smart goal.
Execution: Where The Rubber Meets The Road
After research and planning it's time to execute your plan. There are two things you'll want to do during this stage. First is to create valuable content using your research and the second is to post it also using your research.
Create valuable content. Creating content requires using your research to develop content that people will want to share. And this is more than just writing a blog post or sharing something on Facebook. A good content strategy has a consistent posting schedule across platforms that uses the 5 things that make a good post.
Here's an example sticking to car stereos. A good content strategy might include posting 3 times per week on social media and once a week on your blog. In a month you'd want to be consistent to build on what you've given and keep people coming back for more. Here's a sample sketch of a one month plan.
Week 1
Social 3x – once sharing your website, once sharing an article showing what the current in-car audio trends are, once sharing a podcast episode or youtube video about car audio trends. All social posts should include opportunities for engagement like asking for a question to be answered in the comments.
1 blog showing 2-3 in-car audio trends.
Week 2
social 3x – once sharing last week's blog, one sharing an article from a reputable source about one of the trends you shared, once sharing a media post about another trend (video, infographic, statistics). All social posts should include opportunities for engagement like asking for a question to be answered in the comments.
1 blog going more in depth into 1-2 of the audio trends.
Week 3
Social 3x – similar to Week 2 but with other trends.
Week 4
Social 3x – Start pitching your topic for the next week. Maybe it's about speakers. You can introduce the topic and let people know that's what you'll be talking about, asking for people's take on their fav speakers, etc.
Pro tips: Be careful about posting the exact same thing across platforms, a trend many consumers find lazy. Keep things interesting and take the time to keep things unique. Instagram is great for images like infographics, Facebook for article sharing and events, Twitter is good for quick bites of information and links.
A final note on execution: don't get lazy. If you are getting a lot of engagement someplace, by all means keep doing what you're doing but don't stop using other platforms and instead, spice things up and see if you can drive traffic from elsewhere. The perfect example? Getting people to your blog can be tricky but pointing other social there once a week might build your readership and get people there. Don't give up!
Analysis: Ask Questions To Improve
We'd be willing to wager that the two most important parts of a content strategy are research and analysis. Analysis is where you take the time to answer important questions that will inform how you move forward.
A good analysis asks the following for each platform:
What worked best for each platform? Do more of that.
What didn't work? Try something new going forward and see if it's better.
If you are sharing images and infographics on Instagram and they are getting lots of engagement but your Facebook posts linking to your blog are getting fewer, consider changing some facebook posts to images (but different ones from your Instagram posts).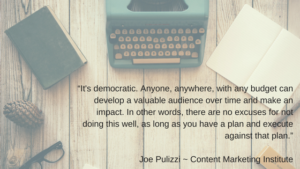 Final Words on Creating A Great Content Strategy
Building a content strategy is a vital part of your small business. You now know what it is, why content strategy is important and the steps in a great content strategy plan. Next time we'll be back with tips to put your plan into action in a way that gives you the best chances at success. And if this sounds daunting don't forget that you can hire a professional to help you research, plan, execute and analyze a content strategy!
---
Nancy Koziol knows two things like the back of her hand: SEO and good writing. She uses these, and her B.A. in English from a small liberal arts school, to write killer content for Digital Firefly Marketing and its clients.