March 1, 2019
Are You Writing Content That Counts?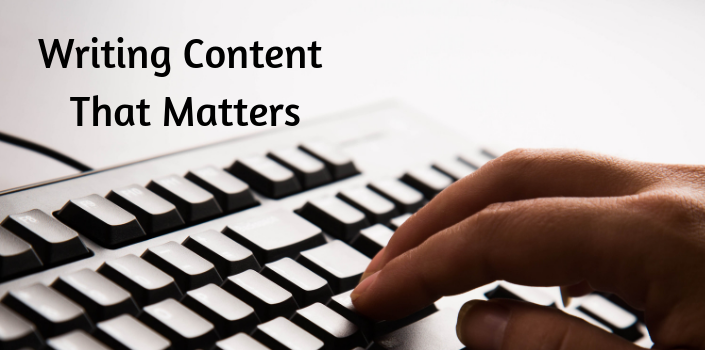 You can ask anyone. Well-written content keeps people on your page. What constitutes good content? Let us explain.
The Key to Writing Good Content
Google loves quality content. Does anything else matter? The better the page content the higher the ranking.
The Main Idea
Lead with the important stuff. When people browse the internet they're not taking the time to read everything they see.  Scrolling through pages is more of a scanning process. People make lots of snap decisions. So if you want to make a point, you better get straight to it. The Inverted Pyramid style is a great guideline for your approach.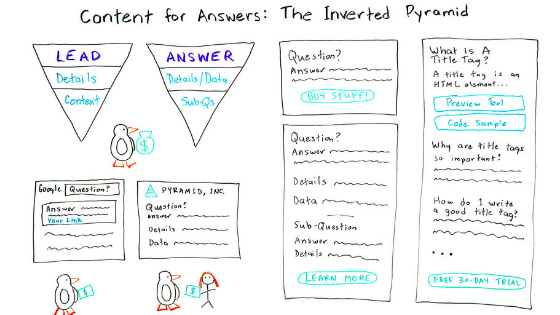 Define your brand. Who are you? What products or services do you offer? People want to know. This is where you establish your look and set the tone for your audience. Once you have an established brand, you create content with a voice to match.
Identify your audience. Who's your audience? Knowing your target audience is crucial. Above all, you want to write quality content that's tailored to a particular reader. Make sure you know who you're talking to and present things in a way that appeals to them. The goal is to engage and inspire your audience while providing useful information.
Establish relevance. Use a brief and descriptive headline to summarize what you're all about. This simple summary is all it takes to set the stage for your readers. You're aiming to establish a need and provide a solution. People want to see clear and concise information and a way to solve their problem. Also, a captivating headline generates more clicks.
Provide helpful & easy access to info. This is where links and FAQs come in. Showing people exactly what they came for is much better than making them search for it.
Use simple statements. If it's easy to understand, people will stay interested. Commonly used words make things easier to understand. Also, this gives you the opportunity to expand your audience. Easier to follow equals more followers.
How Will People Find You?
There are certain eye-catching aspects you can add to a page that will get people to read your content. If your layout is simple and your content relays a direct message, you'll have repeat visitors. Here are some simple things to keep people on board:
Clear headlines. You have to pull your audience in. A powerful headline is a great way to make people stop and look. Create good content and get people to read it.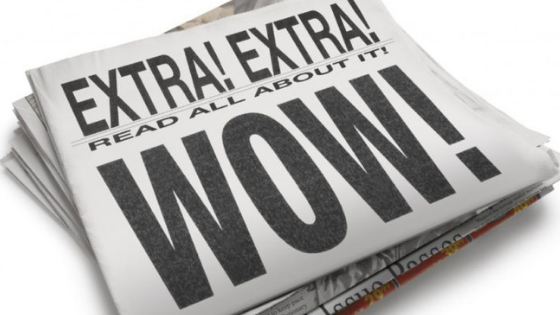 Bullet points. A bulleted list is a great way to get your reader to pay attention to your content. It's an easy way for those scanners out there to know right where to look for the good stuff.
Clean design. The layout and overall design of your page is a huge part of why people are drawn to your information. A well-designed page with high-quality content is a perfect combination for driving traffic to your site.
Bold images. People do judge books by their covers. Adding images increases visibility and ups your rank. In fact, people are more likely to read your carefully-crafted content if it's broken up with bold graphics and images.
Short explanations. Be as clear and specific as possible. Good content includes concise paragraphs made up of succinct sentences. Write for an audience with a very short attention span.
Comprehensive information. As important as it is to keep things concise, you also have to make sure you're giving your reader a thorough explanation. The total length doesn't matter in the case of good content creation. What matters is that you get your point across without leaving out any vital material. And that people want to keep reading.
Updates. Keeping your content current with updates gives people a sense of security. The more recent the update, the more credible the information. Good content should be updated regularly. Out with the old and in with the new.
Social Media Content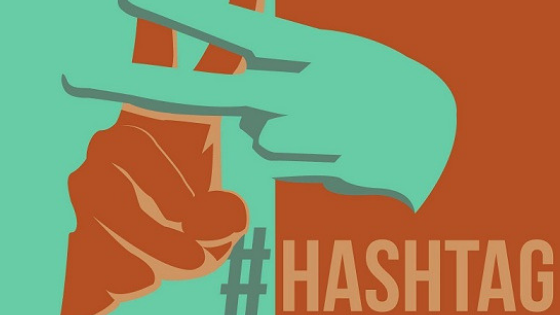 Sometimes businesses forget how important it is to write good social media content. Sharing social media experiences is a huge part of the business networking process. Additionally, it's one of the bedrocks of any successful company in this day and age. Having relevant social media content is just as important as relevant page content. There are many ways to attract social followers. Here are just a few:
Polls. A social media poll is an excellent way to grow business organically. People want to be involved in decisions. This gives your audience a voice and gives you a better sense of what people are actually looking for. It's a win-win situation. You're listening to their ideas while keeping the attention on your brand.
Hashtags. They're everywhere you look. People even speak in hashtags at this point. So carefully choosing hashtags for people to follow is essential. More people will notice you if you lead with a hashtag.
Free Tips. Why not offer the user a little bit of free advice? It gives them a taste of what your services are like. Giving tips is an effective way of getting people involved.
Roundups. A weekly or monthly "roundup" of favorite websites and articles pertaining to your area of expertise will keep your audience engaged. People appreciate getting up-to-date information in one easy to access post.
Have Fun with It
Creating good content can be fun. Providing an interactive user experience and telling an interesting story will keep customers coming back. Furthermore, if people enjoy their experience, they'll refer other people to your site. This is how solid networks are built. Whether you're a tech company or you manufacture custom ballet slippers, content is what paves the way for success.
The DFM Approach to Content & SEO
Having a content marketing strategy is an essential part of any thriving business. At Digital Firefly Marketing we bring a unique, holistic approach to search engine optimization. Our content team provides the best in content writing services. With a customized combination of careful keyword research and monitoring of analytics, we boost online visibility and keep your website fresh. Contact us today for a free content audit.