September 20, 2018
How Content Marketing Drives Sales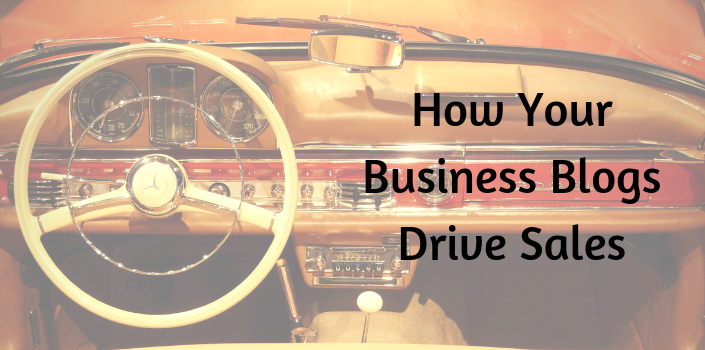 Content marketing, and not just social media marketing, directly influences sales. This may not be apparent or obvious at first. Brands that learn this immediately wonder how to use content marketing to convert browsers into buyers. Today we'll look at one specific aspect of content marketing: business blogs.
Are Business Blogs Necessary?
The short answer to this question is a resounding yes. We know that social media campaigns get people to purchase goods based on gorgeous images and creative videos, but business blogs also drive sales.
Grabbing Attention at the top of the Funnel
If you sell a service, it can be difficult to figure out how to get clients. One of the best ways is to harness the power of Google. People go to Google with all sorts of questions 

That's right: whether you've got a problem with your network security or bicycle tire, a wall or upholstery, Google has the answer. Because the average person knows this, they are likely to go to Google seeking advice or answers. Smart businesses create blogs and other web copy that ranks (yup, back to SEO again!) and answers questions, exhibits expertise and inspires confidence in order to pull people toward sales.
Offer Answers
Good content marketing strategies start with questions. What questions do people have when they call you? When you tell people at a party about your work what do they ask you? What are the most common problems faced in your vertical? What issues can you solve? Brainstorming a list like this and framing a series of informational posts as questions is a great way to use search engine optimization and content marketing to give the people what they want: answers. Here are just a few examples.
Questions Bicycle Repair Shops Get Asked:
What is the best type of bike for a flat, suburban commute mostly on paved trails?

How often should I replace my helmet?

Should I replace my helmet after a crash?

Should I use clips or a basket cage?

How do I know if my tires have enough air?

How can I outfit my bike for commuting?
From there, a business can branch out. It may sound sneaky, but people interested in bikes may wish to work in the bicycle industry. Writing about bike-related jobs isn't a bad idea. Keep a running list of questions to develop content for your business blog. Don't be afraid to branch away from strictly basic questions to other industry-related content.
Exhibit Expertise
It sounds similar to answering questions but there's a subtle difference. Savvy brands use their blogs as a place to toot their horns. Have an employee who came up with a brilliant solution to a problem? Write a post about it. Did your brand get written up in a local publication or tweeted at by an influencer? Get that on your blog.
Don't be afraid to go behind the scenes or post more than just basic informational posts. This shows readers that you're not just another bike shop. If you've got a staff member who is geeked on a hyper niche aspect of your industry let them write for you. As long as the piece is hitting SEO and readability benchmarks you might gain readers who wouldn't normally follow your content.
Inspire Confidence
Use your blog as a place to encourage and empower. Using the bike shop example, offer tips about local trails and ride clubs. Write informative posts about how to change a tire or give your bike a checkover before going out for the first time of a season. By posting information that makes people want to ride you'll gain loyal readers and customers.
Community has never been a more important part of connecting with clients than in recent years. People want to feel like a part of something, so be sure to use your business blog to bring them in to a group of like-minded people.
Digital Firefly Marketing Will Write your Business Blogs
Our content writers strategize, develop and publish blogs on myriad topics for clients spanning a variety of industries. They are exceptional researchers who also match tone and aesthetic to make sure your content is unique. Curious what we can do for you? Get in touch today for a free content audit.