May 24, 2018
Firefly Feature: Are You GDPR Compliant? The Deadline is Tomorrow!
The deadline for GDPR (General Data Protection Regulation) compliance is tomorrow, May 25th. Are you ready?
The DFM Quick & Dirty Guide to GDPR
Here's what you need to know.
What is the General Data Protection Regulation?
The EU regulation protects and empowers citizens of the EU. It gives them control over their data. Even if your business is based outside of the European Union the GDPR matters. That's because the regulation provides a single set of rules for processing data in the EU. Anyone collecting data on EU citizens must comply but even if a company does not have clients in the EU the standards are excellent for boosting the security of private data.
What Data Falls Under the Regulation?
The GDPR is about more than financial data and identifying data.
Highlights of the General Data Protection Regulation (GDPR)
Don't want to read 200 pages? We don't blame you. For smaller businesses and sites, here's what you need to know right now.
Collecting data from EU residents requires explicit consent.
Keep things clear and opt-in only (vs. opt-out).
Don't "help" visitors to your site by pre-checking the box to receive emails.
Write the opt-in language clearly (don't try to sound like an attorney).
You cannot include in your general terms and conditions that their being on the site is consent.
Users have rights to data.
Tell users where, why and how their data is processed and stored
There must be a way to download personal data.
An option to delete data must exist.
Transparency is key.
You must report data breaches to authorities within 3 days of the incident.
Breaches where personal data is at risk must be reported immediately.
Meet your newest employee.
Public companies and those who process large amounts of the protected data (see graphic) are required to appoint a data protection officer.
Take a Deep Breath
The fines are pretty steep for non-compliance but don't worry: this is a learning curve. Fines go up to 40% of your global annual turnover. Penalties are progressive.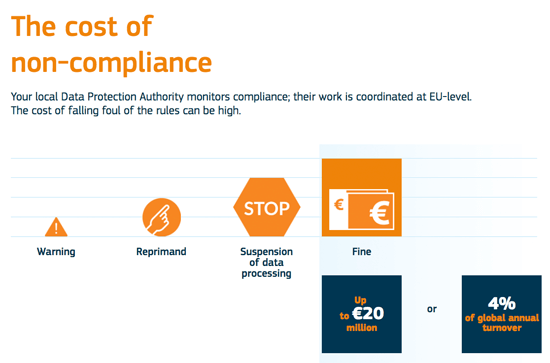 Digital Firefly Marketing is Compliant
Digital Firefly Marketing values your personal data. We build and maintain sites that adhere to privacy best practices.