January 4, 2019
What's The Google Guarantee & How Do Local Businesses Get The Badge?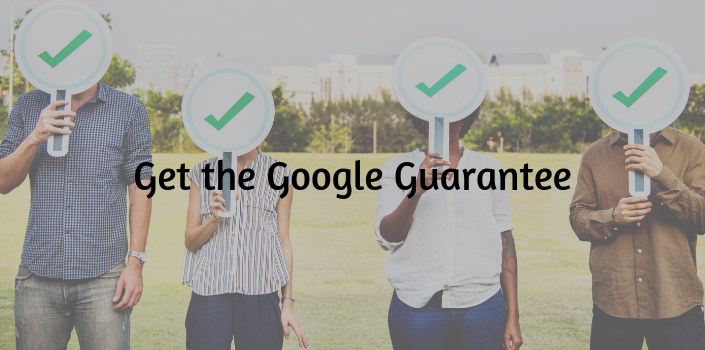 As a small, local business you've got to compete with the big boys as well as locals who operate illegitimate businesses. Google is trying to alleviate this, by highlighting local businesses that operate within the boundaries of the law. Searches for "plumber anytown NY" still yield the usual map and local businesses, but now, the first ones on the list have a green checkmark. This is the badge of a business that's Google Guaranteed. Today we're breaking down what this is, why it matters, and how to get this badge for your local business.
What's The Google Guarantee?
Google has rolled out Google Guarantee to help protect consumers by making sure that the search results show reputable businesses. Also, this promotes local businesses, like yours, that are doing things the right way.
The Green Checkmark Matters
Now, when entering your search, Google will not simply give you the best Adwords result but instead, provide businesses that have applied for, been vetted and been approved as reputable and legitimate. That means they're licensed, bonded and insured. In fact, this protects consumers and businesses alike. Additionally, Google will accept and review claims of botched jobs, reimbursing accepted claims at up to 100% of the invoiced amount. There is a lifetime cap of $2,000 USD and CAD.
What's the process for claims? Customers are likely to click on businesses with the Google Guarantee badge because they have proper licensing and meet other requirements. Customers who book services through Local Services are eligible for the service booked. Add-on and future projects, property damage, dissatisfaction with the price or provider responsiveness and cancellations are not covered. There is a 30-day window to file a claim.
How Do Local Businesses Get The Google Guarantee?
There are seven steps all businesses must take if they want to get the green checkmark.
Create your business listing on Google My Business.

Click to the "Advanced Verification Section."

Enter your business' name, address and phone number.

Select and save your hours.

Choose and save the cities you service.

Select and save the services you offer.

Enter your license number.
Once the seven step process is complete, businesses must use a third-party verification site (Pinkerton) to complete the rest of the application. This process takes about 30 minutes. Expect a two week wait before notification of acceptance or rejection.
The Digital Firefly Marketing Approach to PPC
Need help figuring out Adwords and other pay per click services like that used by Amazon? Not sure if your current strategy is working. Contact us today for a free PPC audit!