February 28, 2019
How Often Should You Post to Social Media?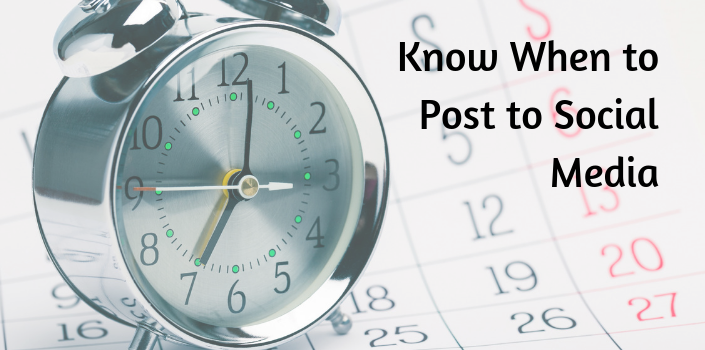 There's no question about it: social media is one of the most effective ways to build a brand through meaningful engagement. That said, one of the biggest mysteries is how many times per day to post. There are two things to remember before following any advice on this hot topic. First, to increase social media engagement posts must be high value. So while posting to Twitter 15 times a day is recommended, only do it if your posts are likely to get activity. Otherwise, you'll come across as spammy and lose followers and, more worryingly, engagement. The second thing to remember is what works on each platform. Below you'll find our guidelines, based on excellent industry research, along with tips to help.
The Key to Social Media Engagement: High-Value Posts
What's a high-value post? It's one that is likely to get shares, comments and likes. And while it's hard to define the exact formula, you'll know it when you see it. Notice, too, how each platform views "high value" differently.
While Instagram and Twitter both like visuals and a feeling of being in a picture, Facebook is more about information/education. All platforms like a story, but Facebook is generally less emotional. Notice that none of the posts ask for likes/shares/comments and instead get them organically. This is crucial to understanding the power of high-value posts. See our post about the Facebook algorithm to learn more about this. Another important thing to note: high-quality posts are often about something else. Not how great the brand, person or organization is that is posting but about the thing they're posting.
How Often and When to Post on Each Social Media Platform
Because Pinterest is a passive platform, we've left it off and have chosen to focus on Facebook, Instagram, Twitter and LinkedIn. LinkedIn is a great B2B platform that is often overlooked so be sure to add it to your strategy. For each, we've distilled a posting strategy to the most important points. Don't forget to download or print our handy infographic to place wherever you do your social media planning: it will help you master the art of engaging posts.
Facebook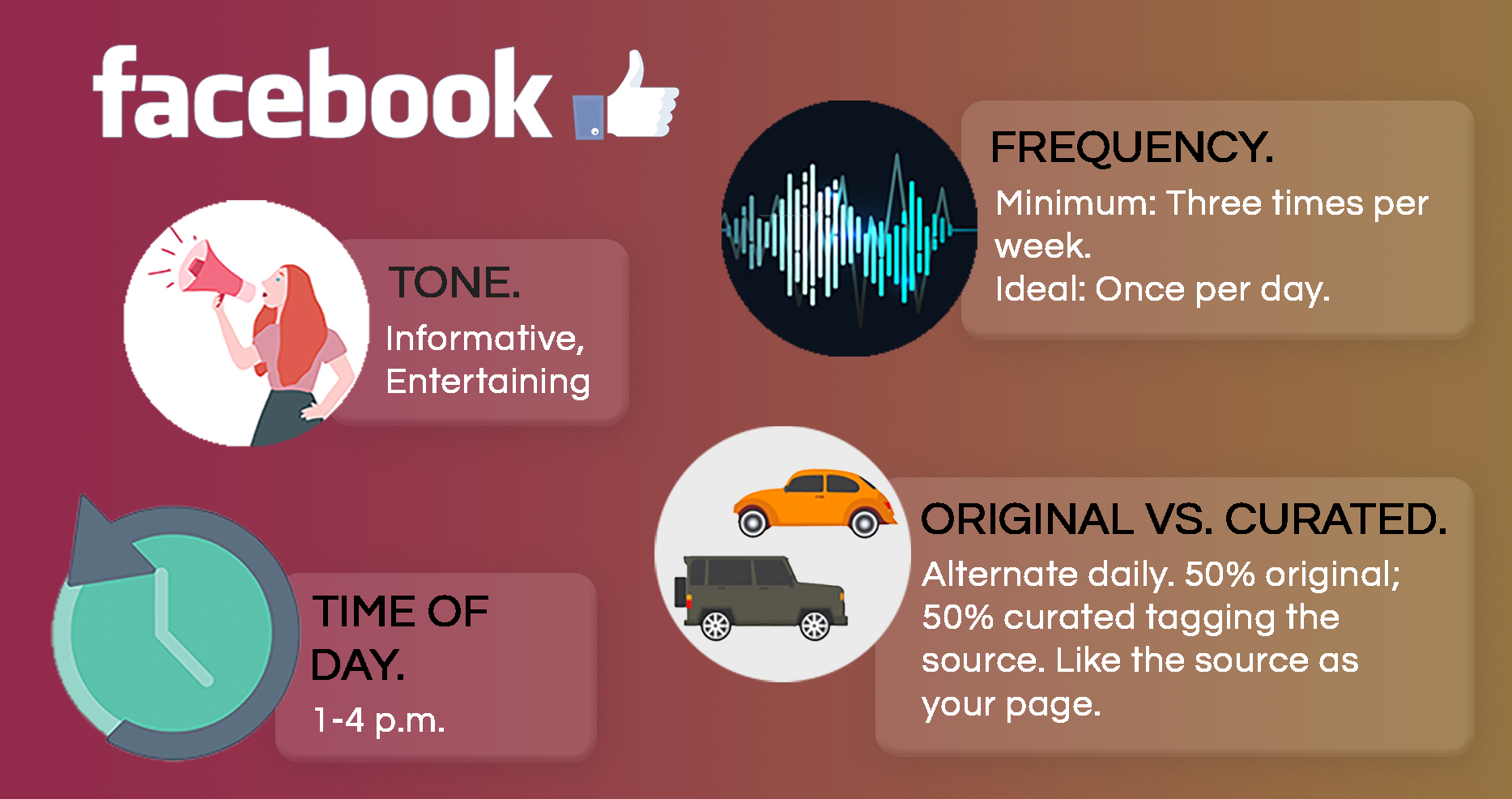 Don't forget that like with everything else, quality usurps quantity. In the beginning aim for three high-value posts a week.
Sample schedule:
Monday afternoon

post an interesting image that metaphorically supports the topic of one of your blogs or a landing page.

Wednesday afternoon

post a great article that is connected to your blog (but not exactly the same) and be sure to like the brand that created it as your page and tag them in your post.

Friday afternoon

share something similar to Monday but if you shared a blog last time, share a landing page and promote yourself this time.
Finally, make time to create these posts in advance and create them all at once. Be sure to schedule them using Facebook Scheduler: you're likely to be more consistent this way.
Instagram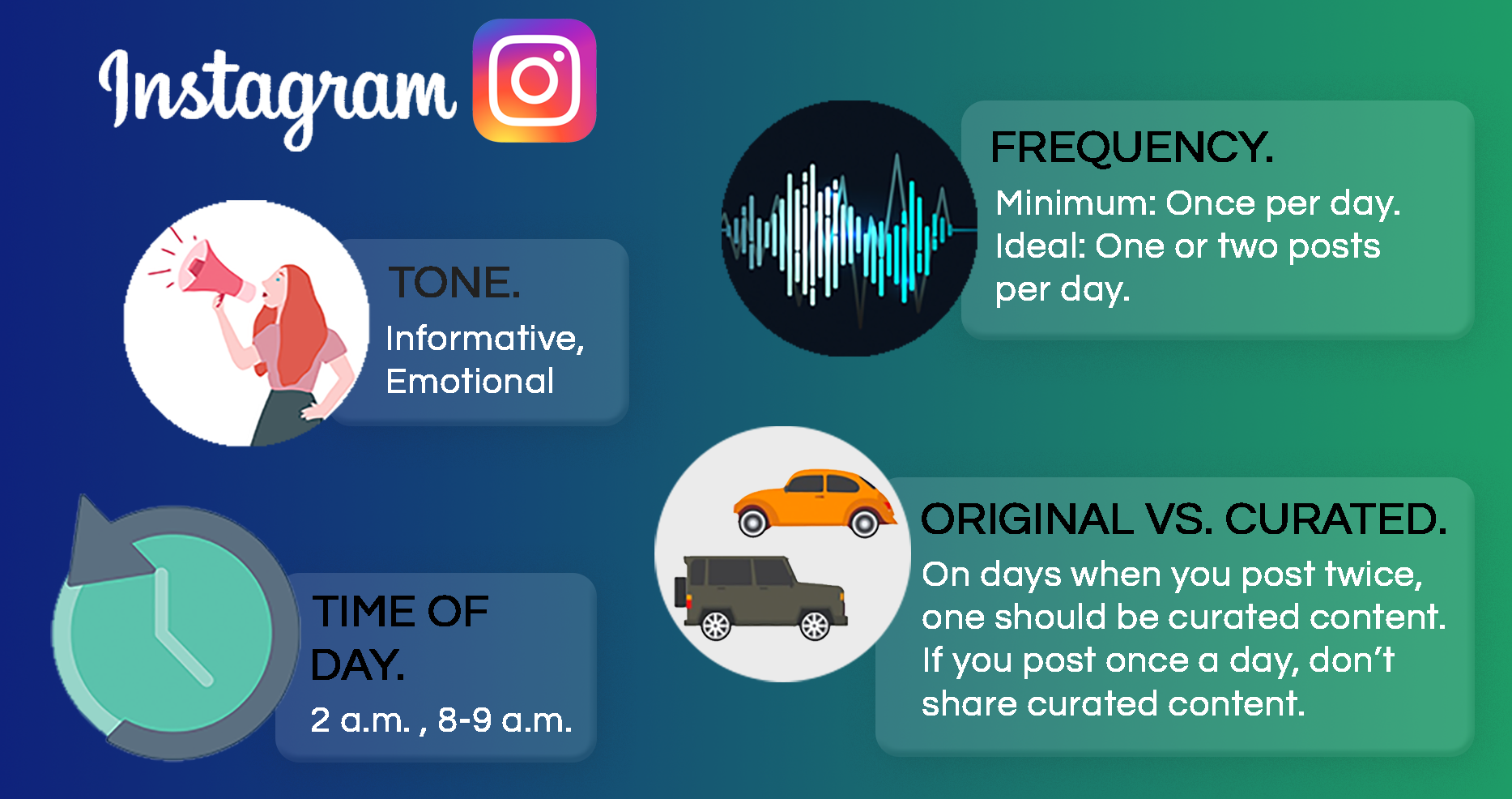 Original vs. Curated Content: On days when you post two times, one should be curated content. If you post once a day, don't share curated content. (Source: Buffer & Social Media Today)
If you want to improve social media engagement, posts on Instagram need to be visually beautiful. Save those rough but fun shots for your Instagram Story. Consider what your Instagram feed looks like in blocks of six and nine. Remember that clean, white backgrounds look crisp, and space "busy" photos between these.
Sample schedule:
Monday morning post original content. Include relevant hashtags. Make sure that you are either teaching something or pushing a great piece of content. Never forget to change your profile link to what you're talking about and let people know by including "link in profile" somewhere in your caption.
Tuesday morning

post original content

Wednesday 2 a.m.

regram a great post from another account. That account should ideally have more of a following than yours. Use relevant hashtags including the relevant ones they used.

Wednesday morning

post original content

Thursday morning

post original content

Friday morning

post original content

Saturday 2 a.m.

original content. Later in the morning regram from a high-engagement account.

Sunday

do the same as Saturday but flip the order.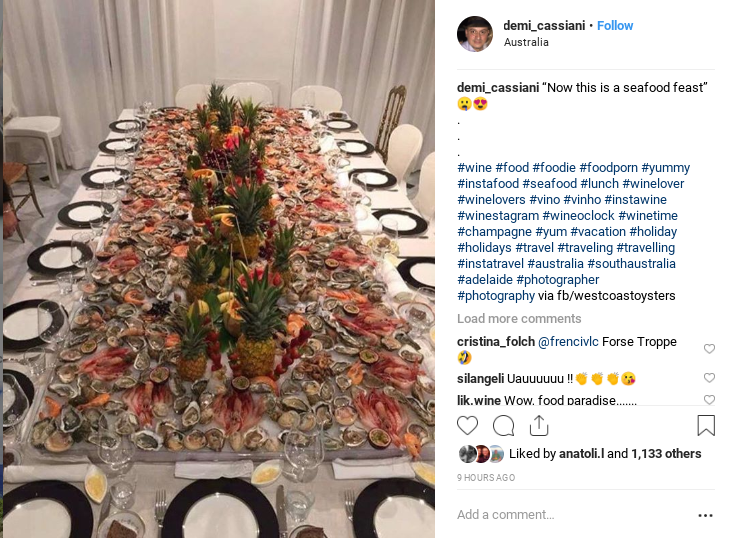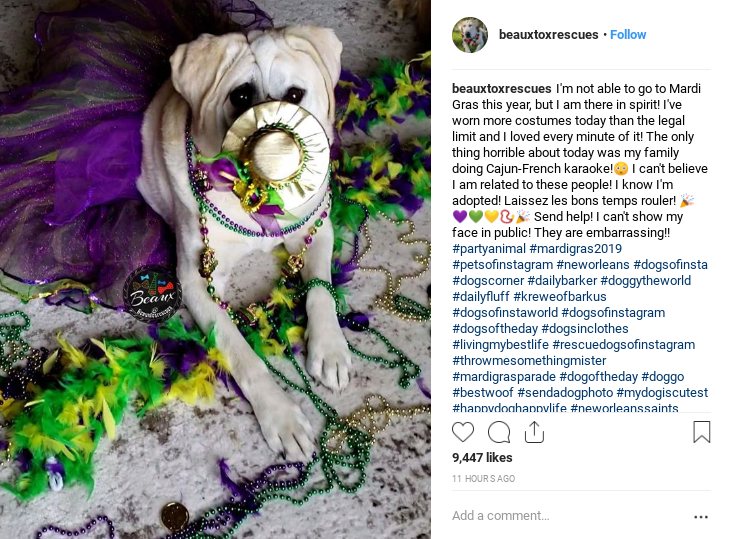 LinkedIn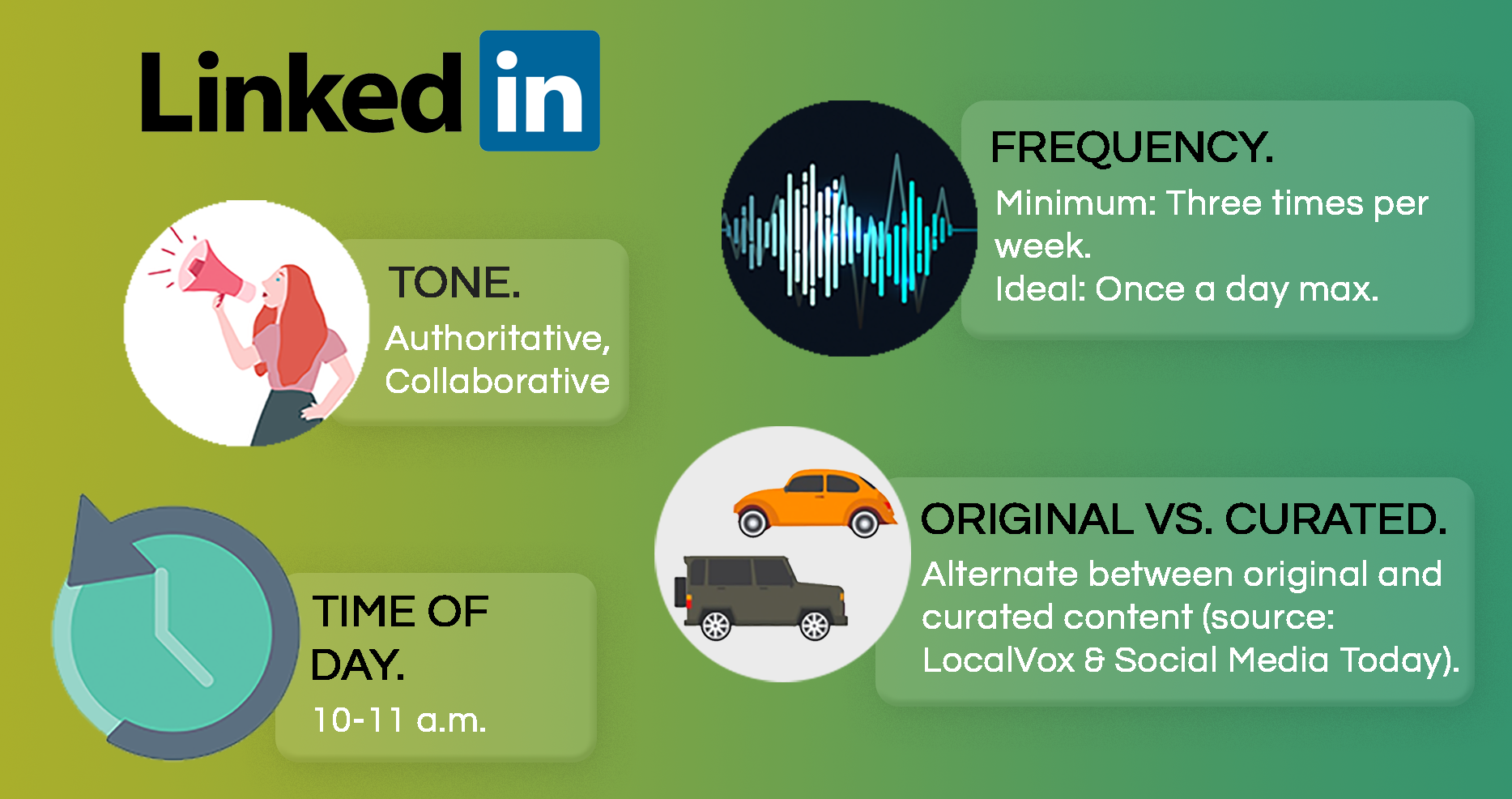 LinkedIn is a professional platform so the most important thing to remember is your audience. You're likely seen by other professionals who might want to use you as a client, younger professionals looking for information or possibly a position, and those who may wish to collaborate. This means you should never share anything except your absolute best work. In addition to LinkedIn posts, similar to Facebook posts, take advantage of the ability to post articles (essentially these are blog posts) in order to get the most. Be mindful, always, that it's better to post nothing than to post anything that is less than perfect.
Sample Schedule:
Monday morning

original content posted as an article on LinkedIn.

Tuesday morning

share content from a reputable source and be sure to tag the source. Consider using a pull quote or writing an engaging intro. We prefer to cut and paste the link rather than use the "share" option on LinkedIn. This makes the content look better.

Thursday morning

original content posted as a link to your website. Don't forget a good intro.

Friday morning

share content from a reputable source.
Twitter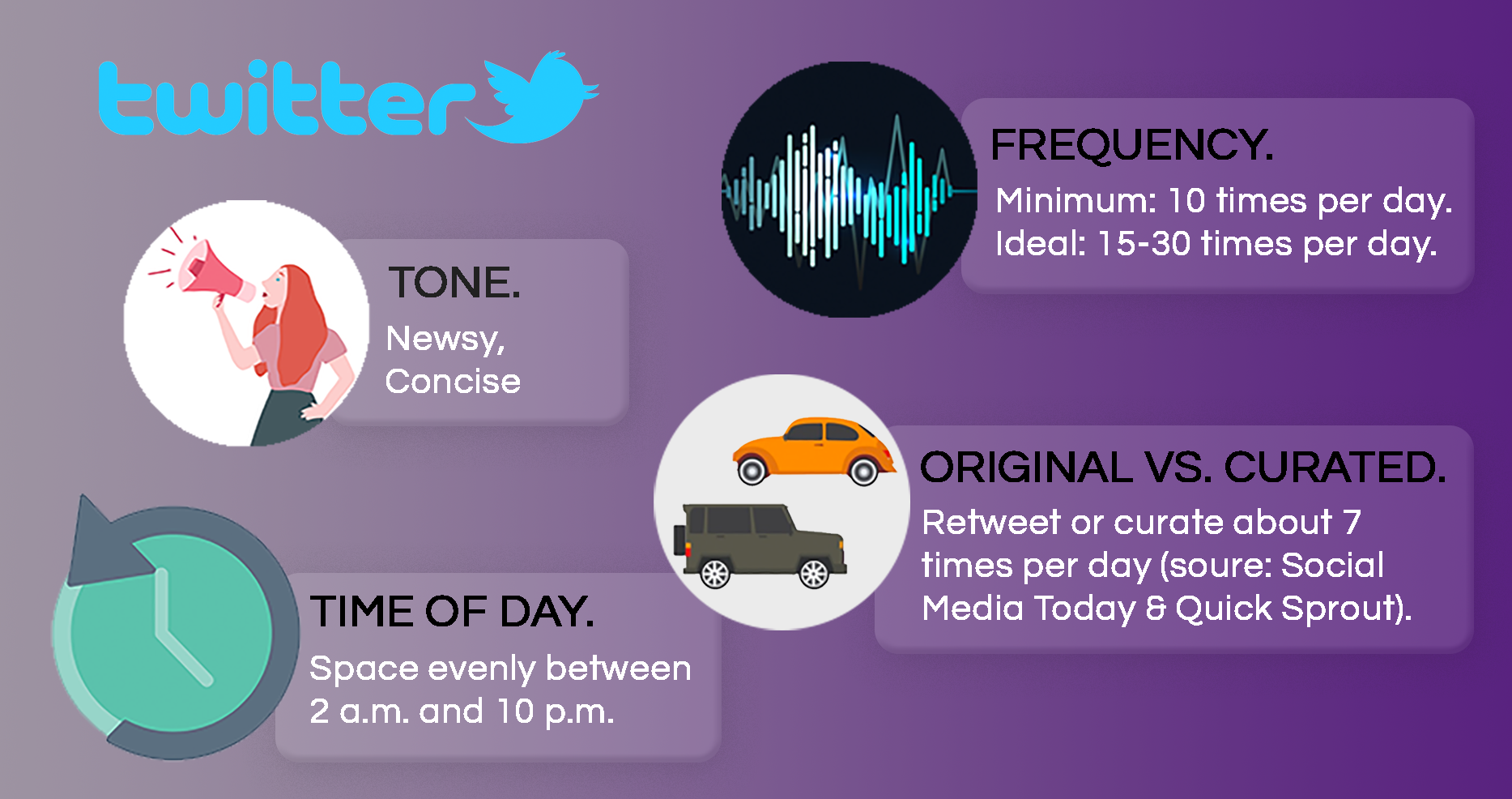 Yes, we're telling you that ideally, you should tweet between 15 and thirty times a day and, at the very minimum, 10. We've been known to tell people that if they can't do this, Twitter may not be the best platform. Twitter is fast. Really fast. Most tweets are "dead" in less than an hour. Add to this that Twitter requires near-constant monitoring because in the Twittersphere, engagement is what matters and people are looking to interact with brands. If you can't monitor your Twitter for replies, just don't tweet! Or, better yet, create a position or outsource your tweets so that you can use the platform to its best. Otherwise, you run the risk of spending time creating tweets that will not get you any traction.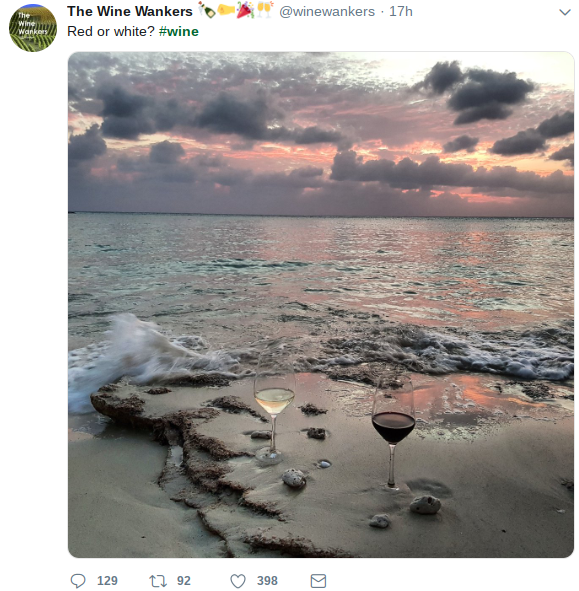 We're not providing a sample schedule because there are a variety of iterations based on how frequently you post but you should be aware that there are some high traffic times, including between 9 a.m. and 3 p.m. Try to save about ⅓-½ of your tweets to share hourly during this time and also schedule a few for early morning and late night hours.
Get Scheduling!
Social media is all about creating original and curating existing, valuable content that will delight users enough for them to interact. Depending on the platform, different types of engagements matter: Facebook shares are huge whereas on Instagram, comments are the best. Create a social media strategy that follows these guidelines and you're likely to see greater engagement, reach and possibly conversions. Get in touch today for a free social media audit.