March 9, 2017
Get The Green Light on SEO — Part 1
The Truth About Good SEO & Why It's Important
Here at Digital Firefly Marketing we take Search Engine Optimization (SEO) very seriously. In fact, you'll find our experts have their own language when it comes to talking about good SEO. You might think they were planning a road trip instead of helping companies get found on the Internet. They use driving analogies when talking about SEO, and the most common one is the traffic light. This analogy is the best way to understand, plan and execute stellar SEO. This month we'll explore SEO & Google from the surface to the depths.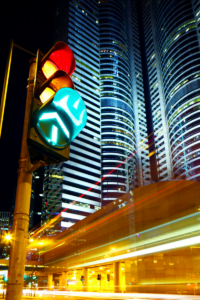 First Things First: What is SEO? We've heard the acronym but what is SEO? SEO is a set of practices that make your site attractive to Google and other search engines. It is a huge factor in determining where your site ranks in Google results.
Google is, essentially, a giant traffic light. Its spiders crawl sites and help Google decide whether to give the site a red, yellow or green light. This dictates their path up Google search results to the coveted position of first page, above the fold.
SEO Isn't Just One Thing
While SEO sounds like one thing, it's an umbrella term. Underneath that umbrella are a variety of components that factor into good SEO.
Back End/CSS: How a site is structured and coded, including the house of headings, where things appear, alt tags on images and more influence whether or not a site has good SEO.
Content: The amount of content, length of sentences, paragraphs and sections all factor into SEO. Additionally the way in which content is written also factors into SEO. Google is going more and more deeply into the syntax, grammar, and style of content to guarantee content is written by native or live native speakers. Good writing increases value.
Design: Believe it or not, how a page is structured also influences SEO. This includes the use of images and how they are coded.
Why Does SEO Matter?
Despite the importance of social media, Google is still king. Just take a look at these stats: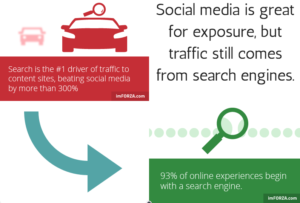 While a social strategy is great for alerting people to what is going on and different aspects of your business, it's your site that matters. Make sure your site has good SEO because, as this next stat shows, you want Google to give your site the green light!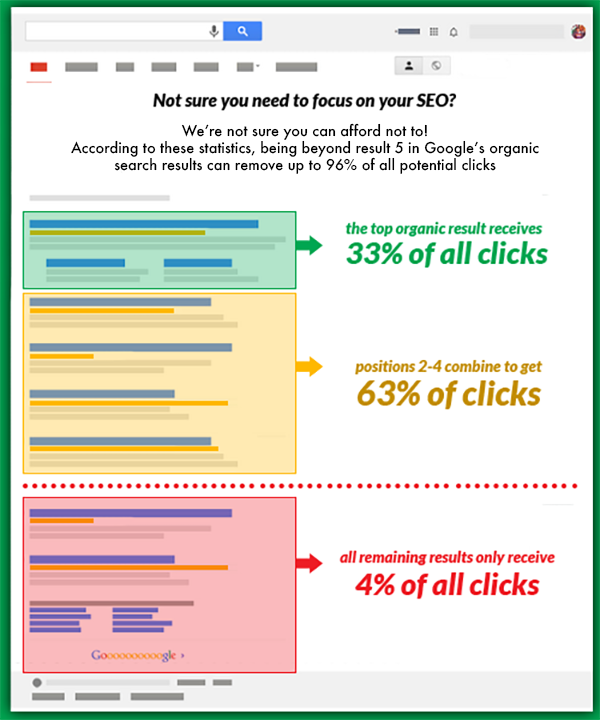 SEO & Google go hand in hand which is why these stats are important. Websites that have good SEO are more likely to move up in rank.
The Benefits of Good SEO
When a website has good SEO:
Google ranks it higher. As illustrated above, the higher you rank the more clicks you get. But your site, no matter where it appears on the front page, gets important exposure. People can't click if they can't see your site.
Readers trust your site. You've never heard someone say, "I found this amazing article six pages deep into Google's search results!" Not unless they're searching for proof of men in black. A higher ranking on Google automatically signals to searchers that your site is valuable.
It generates leads. The top three positions on Google get the most clicks. More importantly: leads generated by good SEO have about a 15% close rate. Traditional outbound leads have a close rate of under 2%.
One of the most interesting parts of SEO is that it incorporates not only reading habits but also psychology. People always say things like, "It's at the top of my list" to signify importance. Naturally, a site listed at the top of a Google results page must be important.
Despite those heralding the end of days for SEO, we're pretty certain that it is here to stay. Each week in March we'll look at how to develop good EO throughout every area of your website. Next week? How content and SEO are, and should be, inseparable. Wondering if your site has good SEO? Get your free SEO audit from Digital Firefly Marketing.
---
With a penchant for SEO since 1998, Maarit Durity's experience and expertise in SEO strategy and execution is reflected through the success clients' websites reap.