January 25, 2018
Is Something Missing? The Secret SEO Strategy You Need To Incorporate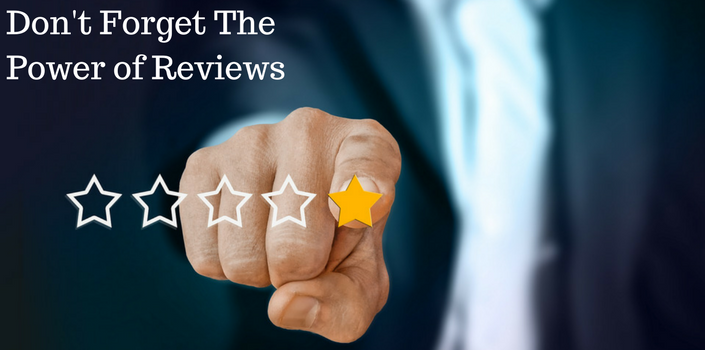 You've optimized the heck out of your site, regularly add valuable well-written content, are killin' it on social and provide a delightful user experience. Still, you feel like your performance on SERPs could be better. We're willing to bet you haven't heard of the strategy we're going to share today.
The Keyword Combo To Consider
When people search, sometimes it's to help narrow down which business to use. The way most people make this decision won't surprise you because you do it, too. Think about the last time you were going to select a restaurant — be it a new one in your town or a place while traveling. Chances are you looked at online reviews and considered two things.
When considering reviews, that place with a 4.5-star review and 1,500 reviews probably looked better than the one with one 5-star review that simply read, "Awesome!". That's because in today's Yelpy, narrative-driven world, we've started to give credence to what our neighbors say. We look for reviews that are 4+ stars and appear to come from actual visitors. But what's this have to do with your SEO strategy?
One of the most common search combinations is [business name] + reviews. That's right – people are skipping the hype of business-run websites (these are still vital and you need to rank!) and looking at what other people are saying.
You can't control what's on a review site or pay for removal but you can and should add review sites to your SEO strategy because people are looking for reviews of your business.
Understanding Review Sites
Anyone can write a review and everyone knows that. But people still rely on well-written reviews and star ratings that comes with a ton of reviews. Many people write reviews on Yelp, Tripadvisor and Google, so it's a good idea to remember that and [business name] + reviews when creating your strategy.
How To Take Advantage of The Keyword Combo
You should probably not optimize for your business name and "review" – that will look a little strange. But you can leverage the fact that people are looking for reviews of your biz by taking an active role in your reviews. Here's how.
Claim Your Listings. It's easy to claim your listings on popular business review sites. You'll receive alerts when you get reviews and can respond to reviews.
Respond. When you get a bad review, respond without blame. It's easy to take it personally when someone says your shop was lacking, but that won't help you. Instead, acknowledge their dissatisfaction, share any steps you'll take to remedy it and tell them you hope to give them a better experience the next time they're in.
Take Advantage Of Check-In Specials. Check-ins are a big deal in the Yelp community. Yelpers, especially those pesky "elites" whose reviews are weighted, regularly check in. They do this for two reasons. First, to remember who to review when they sit down to write. Second, to take advantage of check-in specials. These are simple things you can offer. When a Yelper looks at their "nearby" screen, any business offering a special gets a special icon. Common offers are a free order of fries or free soft drink at a restaurant, 10% off coupon or free dessert. All businesses can take advantage of these.
Take Advantage of Deals. Yelp also allows businesses to create Groupon-like deals for customers.
Remind Customers To Review You. Put a note on your website and social media accounts and have staff ask customers who are having a particularly good experience to review you on popular review sites. A simple, "Thanks for coming in, we'd love you to review us online!" is enough to get most people who already have accounts to review you.
Never pay for reviews. It's easy to find people on Fiverr, Upwork and other gig sites who will write reviews for you for money. The problems with these types of arrangements are many: first being you often end up paying for nothing. More on this below.
Why Paying For Reviews Doesn't Work
It can be tempting to hire someone to write reviews for you however this is a terrible idea for several reasons. Many of the people offering to write these reviews are not good writers and their reviews are obviously fake. They often create many fake accounts and get flagged, thus being hidden and removed from your score's calculations. Finally, businesses known to hire review writers often lose credibility quickly.
Luckily, by offering a great experience to customers, reminding them in person to review you and taking advantage of free things like adding a reminder to your site and social, and offering small deals you can build up your stockpile of good reviews and leverage where your business falls in the SERPS.
Which Review Sites Matter?
The short answer is "all of them." That said, there are ways to prioritize. First, if your business shows up in the sidebar of Google when you search your business's name you should focus on Google only because it is so visible. Yelp is the most important, though, and often comes up first after your website. Tripadvisor is less important, but you should monitor it and if you see negative reviews, add a strategy of answering reviews. Don't forget your reviews on social media sites like Facebook and Foursquare, too!
Digital Firefly Marketing offers social media marketing and reputation management services that can help you leverage your reviews. Contact us today for a free audit specific to your online reviews.